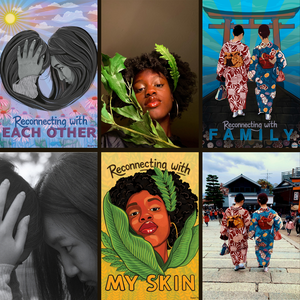 This spring I was honored to be invited to participate in a project organized by the Amplifier Foundation in partnership with the Unshuttered Program of The J. Paul Getty Museum in Los Angeles. Centered around the theme "Reconnecting with___", this campaign invited student photographers from around the country to submit original photographs capturing who and/or what they were reconnecting with since the pandemic (themselves, nature, family, etc.). I worked alongside top curators from the J. Paul Getty Museum, Amplifier staff and seven other incredible artists to select 20 winning photographs. We then worked with the winning photographers to transform their...
---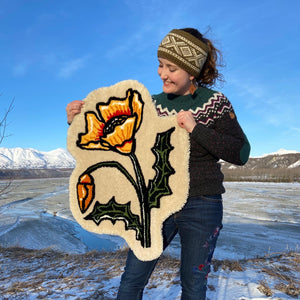 My sudden interest in textile art/rug making/fabric design may seem completely random when considering my other work, so I figured it would be worth a post exploring some of the connections.  You see, it really isn't random at all. Growing up as a second generation third-culture kid has meant that I have done a lot of self exploration around what the meaning of "home" is. It is also a recurring theme in much of my work. I know what it feels like to perpetually live in between worlds, to be Finnish yet not speak the language, to have an American...
---
This summer I will have a booth at the Palmer Friday Fling market. The first day is May 21, so if you're in the area please stop by and say hi! These are the dates and times I'll be there: May 21 11AM-6PM July 16 11AM-6PM August 20 11AM-6PM This is also the first time I'm participating in a market as a vendor! I'm super excited and have been spending so many of my evenings and weekends preparing my booth. If anyone has experience and tips for a newbie market vendor, please send them my way :)
---
I'm honored to be joining a lineup of artists, activists, researchers and community organizers for this virtual exhibition hosted by the Social and Public Art Resource Center (SPARC) in LA.  Why We Won't Just Leave features portraits, painting, photography, stories and video profiles from Alaska to the world. The exhibition highlights the responses of Alaskans to their rapidly changing environment and delivers messages that are key for us all if we are to reverse climate catastrophe and cultivate a healthy, vibrant future for generations to come. From activists delivering testimonies in D.C. and artists revealing truth with beauty, to scientists studying...
---
• Art Brand Alliance • Interview
I had the pleasure of being interviewed by the incredible Annie Howe for the Art Brand Alliance Ally + Ally Interview Series. Go check all the interviews out on the Art Brand Alliance Instagram Page!